MP3 Tester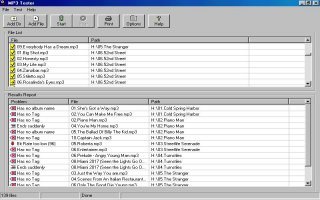 How many times have you burned a CD with MP3 files only later to find that some of those files are bad. You're stuck with a CD with low quality, clicking or partial songs. How annoying! Too bad you didn't have the time to listen to all of the songs before you burned the CD.
With MP3 Tester you can test the quality and integrity of your files before burning.
Features
Ensure bit rate is in specified range.

Ensure sample rate is in specified range.

Ensure file length and size are in specified range.

Ensure ID3 tag fields exist (Track, Album and Artist name).

Ensure frame integrity.

Ensure file does not end prematurely.

Check for presence or absense of attached picture tag.

Check for presense of absense of lyrics tag.

Search for duplicate files.
Examples
Requirements
Windows 95, 98, ME, NT, 2000 or XP.
Price
MP3 Tester is free to try and costs $8 (USD) to register.
Once registered, you will be entitled to unlimited updates.

Awards
Listed on